26/10/2022 –
Survey by little greenie
Baby products should be free from harmful substances
German company 'little greenie' has surveyed its customers on the issue of sustainability in products for babies and children. The result: absence of harmful substances is parents' top priority.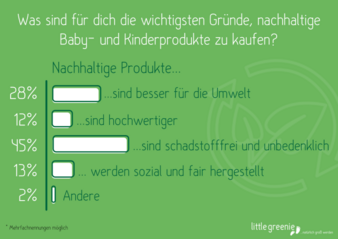 The survey was conducted during the period August 2021 to January 2022. Almost 1500 customers of the online shop littlegreenie took part. The survey covered the fields of clothing, toys and equipment. The five most important findings were:
1. Being free from harmful substances tops environmental and social standards: the most important reason for buying sustainable products for babies and children is that they are free from such substances. Environmental and social standards in production come only second and third.
2. Sustainable products are allowed to be more expensive: buyers are prepared to pay significantly more for ecologically and fairly produced goods than for those manufactured conventionally.
3. Toys must above all have educational merit: for babies' and children's toys, sustainability is not the most important factor. The key issue for purchase here is whether the toy has educational value.
4. Babies' and children's clothing is a second-hand bestseller: purchasing of used clothing for babies and children is markedly more frequent than of used toys and equipment.
5. Children wear more organic clothing than adults: sustainable clothing is bought more frequently for babies and children than for adults. Parents who look out for sustainability for their children, though, tend also to have more sustainable clothing in their own wardrobes.
Little greenie is an online shop for ecological children's clothes, toys and baby equipment based in Hiddenhausen in Northern Germany. It was founded in 2018 by three sisters, Carolin and Franziska Klapper and Anne-Kathrin Wenner.