13/10/2020 –
The digital nursery
Trends on the baby-tech market
The market for digital products and technologies for babies and children has been growing exponentially. This is owed in part to the many ways in which technology can make family life that little bit easier (and the nights more peaceful). Softeq, specialists in hardware and software, have taken a good look at the market and identified the latest trends.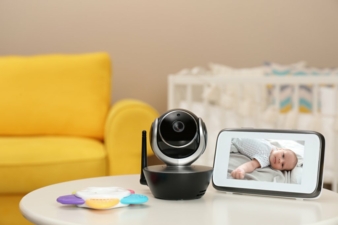 According to Statista, the baby monitor market – the largest baby-tech segment – is likely to be worth US$ 1.735bn by 2024. Earlier forecasts originally pegged growth for the period from 2016 to 2024 at 8.6%. Although the report by Allied Market Research (published in April 2020, directly after the Covid-19 outbreak) predicts a lower growth rate of 5.4 % from 2020 to 2027, researchers still believe that the global baby-tech market will have ballooned by around US$ 1.9bn by 2027.
Which factors are likely to fuel this growth?
1. Parenting is becoming more digital
Parents use digital technologies on a daily basis. They turn to the internet and social media for advice and are more inclined to opt for baby-tech products than previous generations. Many products, such as smart cots, intelligent thermometers and breast pumps, are at the receiving end of rising demand.
2. More mums are working
Following changes in family policy, mothers of minors are more likely to work in Germany today. According to figures collated by the German Federal Statistics Office (Statistisches Bundesamt), the proportion of working women with minors has been growing every year since 2008 (65.4 %). The current share has since increased to 73.9 % – and rising. Numbers in Austria and Switzerland have likewise been climbing in the last ten years, albeit to a slightly lesser degree.
3. More children in higher income families
For many years, demographers found that families with higher incomes tended to have fewer children. However, in Europe this correlation no longer holds. Researchers from the Max Planck Institute for Demographic Research and the Free University of Berlin have concluded that European regions with higher incomes are more likely to have higher birth rates.
Which baby-tech solutions are on-trend?
Companies operating in the baby-tech sector normally target two main user categories: Parents and other family members. Pregnancy trackers, heart rate and breathing monitors as well as edu-tech solutions dominate the market. Having said that, the world of baby-tech starts long before conception. With adults becoming parents much later in life, it is more important than ever to monitor 'future mum's' cycle. This is where smart technologies come into their own – the right data and their correct evaluation can give rise to valid and application-related products. Here are two examples:
 • Cycle apps such as Clue, Flo and Cycles calculate the average length of past menstrual cycles and evaluate specific health parameters to predict a woman's window of fertility. Although several studies have shown that apps, using cycle length alone to calculate ovulation, cannot deliver precise predictions, they are still extremely popular among women.
 • Alternatively, women can resort to a variety of different smart devices. The Kindara app, for example, uses measurements from the Wink oral thermometer to track fertility and basal body temperature. The fertility tracker from Ava is an elegant bracelet, worn only at night. While the woman sleeps, the solution tracks various physiological parameters such as skin temperature, resting pulse and blood flow and uses the data to predict the most fertile days for conception. Ovula Ring produces a cycle tracker which measures the woman's temperature 288 times per day as a means of anticipating ovulation.
In Germany, firms are not allowed to market the apps and wearables as contraceptives even though a device capable of measuring fertility also measures infertile days. However, regulations require suppliers to have special approval which is difficult to come by.
Pregnancy solutions
A range of interesting baby-tech devices is also available for pregnancy, rendering the life of the unborn child more tangible: Some devices, for example, use sound waves to echo the baby's heartbeat from the 9th-16th week of pregnancy.
   
These products (e.g. HeraBeat) generally consist of a wearable and a mobile app and allow expectant mums to share their pregnancy data with others. The Philips Avalon CL monitors the baby's heart rate and activity in the womb with special plasters placed on the mother's abdomen. Philips launched the solution in response to the Covid-19 pandemic – enabling mums-to-be to feel reassured that baby is fit and well in real time and without visiting the doctor's.
Trends in childcare
No sooner has baby arrived than parents are deprived of sleep and tranquillity. These days, baby monitors are no longer necessarily the first choice when it comes to checking that baby is safe and well:
 • Baby sock rather than baby monitor: The smart sock from Owlet checks the oxygen content and heart rate of sleeping babies and alerts parents if their heart rate fluctuates or if baby is having difficulty breathing. The sock uses pulse oximetry technology, is connected to a smartphone, and can be charged wirelessly.
 • "Snoo", the intelligent cot from Happiest Baby, can tell when baby is crying and gently rocks her back to sleep again. It can be controlled remotely with a mobile app.
 • Taking baby's temperature: The smart ear thermometer from Kinsa takes its measurements in a second. The wearable plaster from TempTraq transmits its measurements directly to the user's device via BLE.
 • Mobile breast pumps: The small devices, such as "Elvie" and "Willow", use a wireless connection and are worn inside a bra. Connected to special mobile apps, they help mums estimate the right amount of milk whilst documenting feeding times.
 • Baby eco-system: The Swiss company AGU Baby (Advanced Growing Up) has developed an entire series of products that can be controlled with an app: be it a programmable daylight lamp, which helps babies fall asleep and wake up, a sensor-based body thermometer, a smart toothbrush or a smart milk maker.
Mobile kids, mobile solutions
The market also offers baby-tech solutions that rid parents of some of their worries by telling them how their kids are feeling and where they are.
 • "Sirona M", a smart car seat from Cybex, enhances baby's safety in the car. The solution monitors the wellbeing of newborns/children via a smart chest clip that is synchronised with the in-car receiver and a smartphone.
 • Smart GPS trackers monitor a child's location, send notifications when the child leaves a certain area, and reports emergencies via an SOS button, text message, or phone call. To determine the child's whereabouts and to create a connection to a smartphone, trackers use various technologies such as GPS, LBS, mobile radio, Wi-Fi and Bluetooth. Products include the "Jiobit", "Lil Tracker" and "Mr. Securio", to name but a few.
Next steps - edutainment
As soon as toddlers outgrow their nappies, baby-tech turns into child-tech: With everything from robots to AI-based education platforms, the market offers many devices and services that stimulate the development of children's cognitive and social skills. Here are a few examples:
 • Robots with contact sensors and speech recognition. The Wi-Fi "Woobo" robot is fitted with speech recognition and answers questions; it can express feelings and play with children over four years of age.
 • Augmented reality toys. In the game "Hero Vision Iron Man AR Experience", children can slip into the role of Iron Man. To do so, they simply wear a helmet, download the app, place a smartphone in the AR goggles and position AR markers in the room. Board games with augmented reality: with solutions such as Tacto AR, the digital and physical worlds merge into one. To play the game, the child needs a tablet with the downloaded app and physical play figures.
 The range of baby-tech for both parents and their children is clearly wide-ranging. Baby-tech is an ideal stomping ground for the "Internet of Things" and an excellent example of how even simple data (motion, sound, brightness) can be used to develop intelligent helpers for family life.